Alice: I started at Odoo in February 2021. Within the first glance at my new office, one small but significant detail caught my eye: where were the invoice binders, the suppliers' vouchers, and the account statements? After only five minutes, I understood that my experience at Odoo would be utterly different from my first job in an SME, where paper was our daily routine.
Camille: My first day at Odoo was in November 2021. What a surprise when I opened the office door and realized that my new work environment was very different from the previous ones. Why was it different? Because paper was no longer the rule but the exception. What a change! This was an accounting office, right?
Two accountants and only one question: how to carry out the daily accounts of a large Belgian company without any paper documents?
Alessandro, our CFO, challenged us: to explain how we revolutionized accounting management. The answer was obvious: digitize the company with an easy-to-use ERP powerful enough to support our double-digit growth.
Does it ring a bell? We are talking about Odoo and its Accounting app!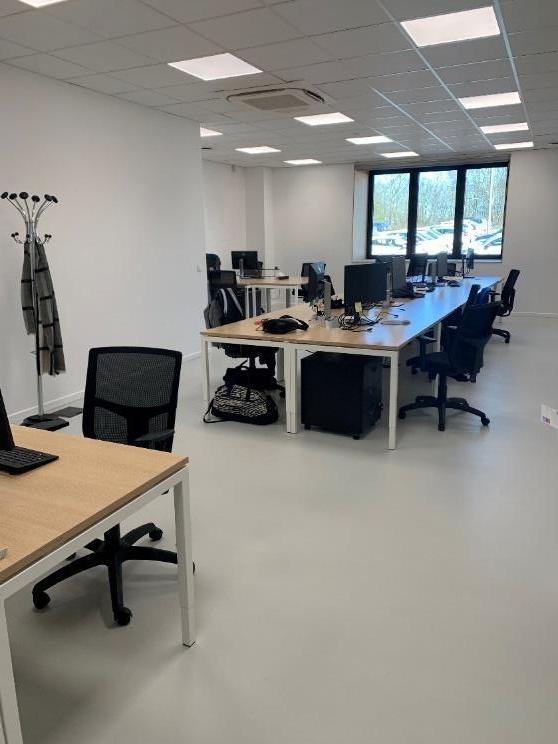 Innovating with Odoo is innate!
Two years ago, Odoo did not allow employees to work from home. And then, one day in March 2020, everyone had to go home. For Fabien, our CEO, it was a disaster! Employees would never be productive working from home, he thought. And yet, since then, Odoo has managed to grow exponentially.
You know the scenario; you have experienced it too. When the government announced mandatory homeworking, every Odooer (Odoo team member) walked out of the office with their monitor, desk chair, and keyboard, not knowing how long until they would get back to the office. Work and necessary resources had to be provided to the employees in record time.
It is difficult to imagine handling the accounting of 200 million sales remotely, with only a PC and Odoo as tools. Bye-bye binders and paperwork (which were still a reality for us at that time).
What should be highlighted here is that even if Odoo offered us the possibility to be 100% digital, the health crisis led us there by circumstantial force. If we were still partially using printed versions before, it was no longer the case. For example, even our suppliers' invoices are received and processed entirely digitally. What a time and paper saver!
Odoo SA in a few figures
Odoo Belgium represents 100 million euros of annual turnover. This means a growth of 71% compared to the previous year. The accounting team doubled its staff from five to ten employees to support such progress, each with its own added value. And even so, only ten people at the time managed the accounting of a 1000 employees company. Can you believe it?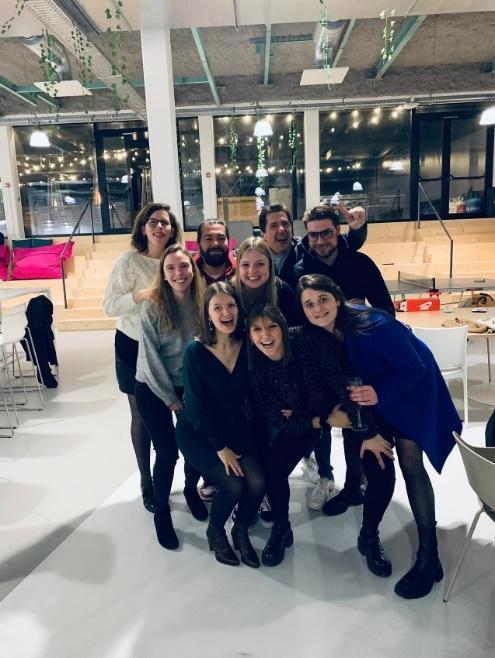 Here is a small overview of the number of invoices that this represents:
On the supplier side: the encoding of purchases represents no less than 14,000 invoices to be encoded for Belgium alone, and only one person to handle it!
On the customer side: two people are enough to manage 100.000 customer invoices over the year!
Extraordinary employees deserve extraordinary software
It's time to explain how Odoo makes our daily life easier and allows us to manage this 100% digital accounting.
Let's first talk about the Odoo accounting application.
1. Vendor bills
On the suppliers' side, here are the features that help us daily: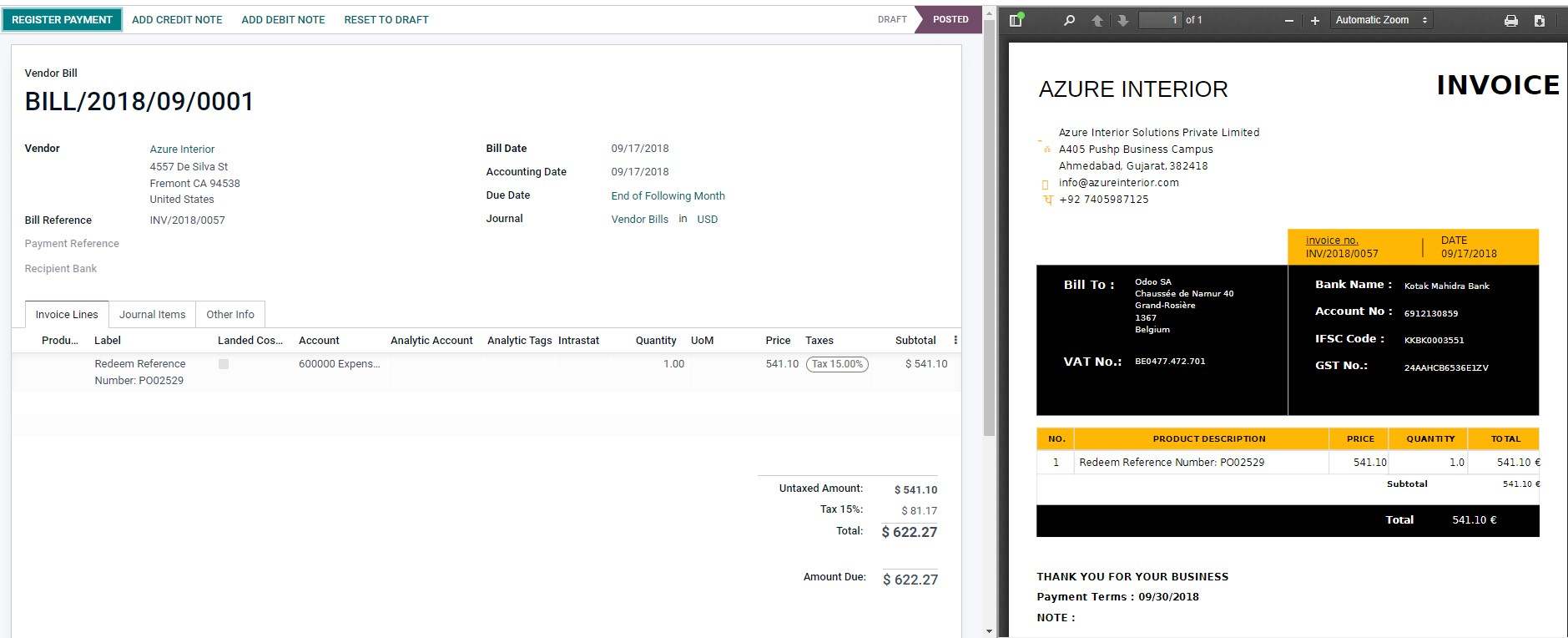 We have set up an email address that receives PDF invoices and uploads them directly into Odoo. For each document received, an OCR system recognizes all the essential elements of the invoice, such as the VAT number, the invoice number, the supplier's name, the invoice's sum, etc. All we have to do is check the information and validate the bill in one click. This is a huge time saver for us: no more printing, classifying, and scanning paperwork!
Try Odoo's AI-powered invoice automation!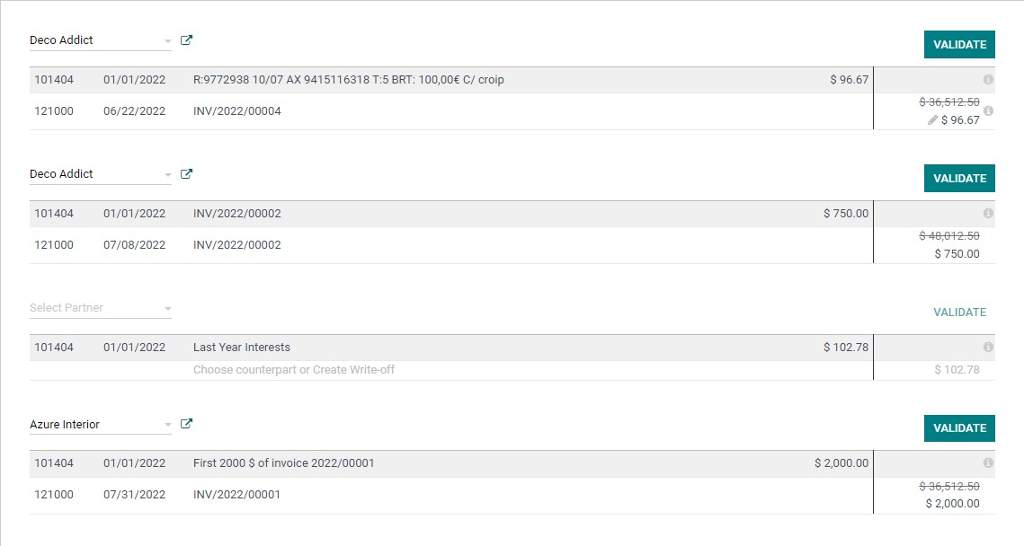 As you can see in the screenshot above, bank reconciliations are also automated. Indeed, Odoo directly recognizes the supplier payments for an almost automatic reconciliation. And as you will see later in this article, it is also the case for sales.
Odoo has set up a fast and efficient system to process expense reports to make life easier for employees. Simply send a picture of the expense (receipt, invoice, bank statement) and enter it in the "expense report" application. Once approved by the team leader, the expense report is transferred to the accounting department for payment in one click. This way, employees can quickly receive their reimbursements.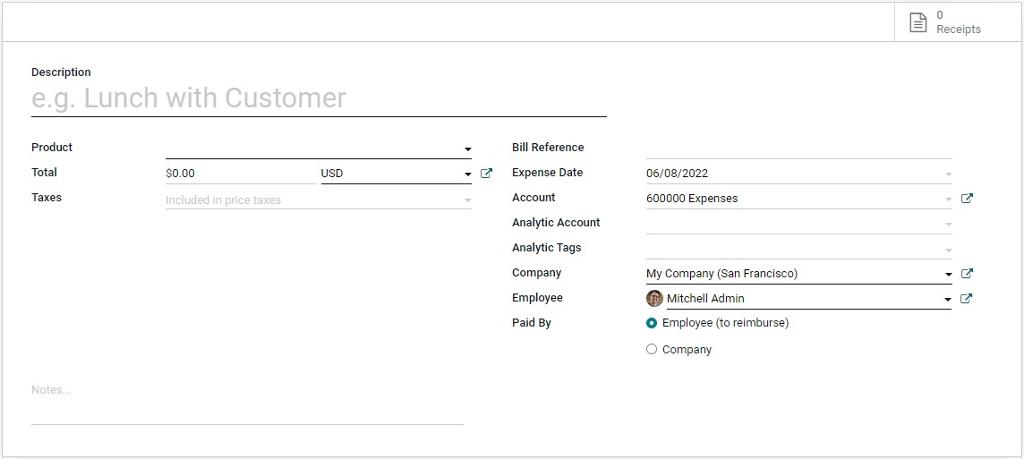 2. Customer invoices
With Odoo, everything is done online. For example, the customer no longer needs to print, sign, or scan the order form and can just sign the quotes digitally instantly -a significant quality of life improvement.
Once the quote is signed, all that remains is to verify the information before the invoice is sent instantly to the customer.
This is the same process for the follow-up of late payments. The reminder can be sent by email to the customer automatically or with one click. And the follow-up itself? The customer's form contains all the reminders sent and the customer's replies within an "internal note".  There are several "levels" of reminders, as you can see below. Everything is customizable according to our needs.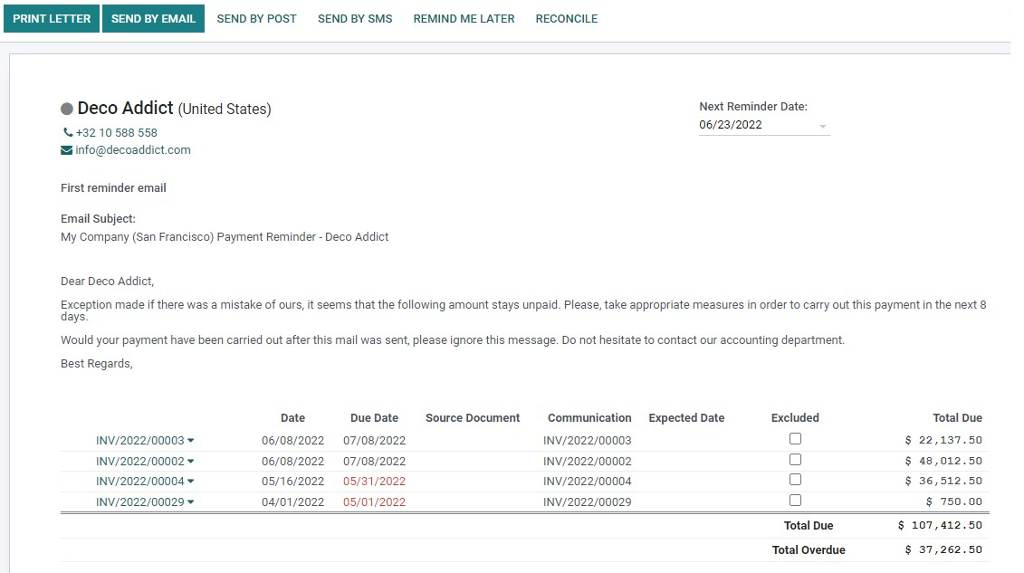 3. Chatter
Now let's talk about the real added value of Odoo, which is the chatter! This feature allows us to exchange emails with the customer or supplier, write internal notes, link documents, tag our colleagues, and create reminders and activities related to the invoice. This enables us to keep a history of all internal and external exchanges related to the document.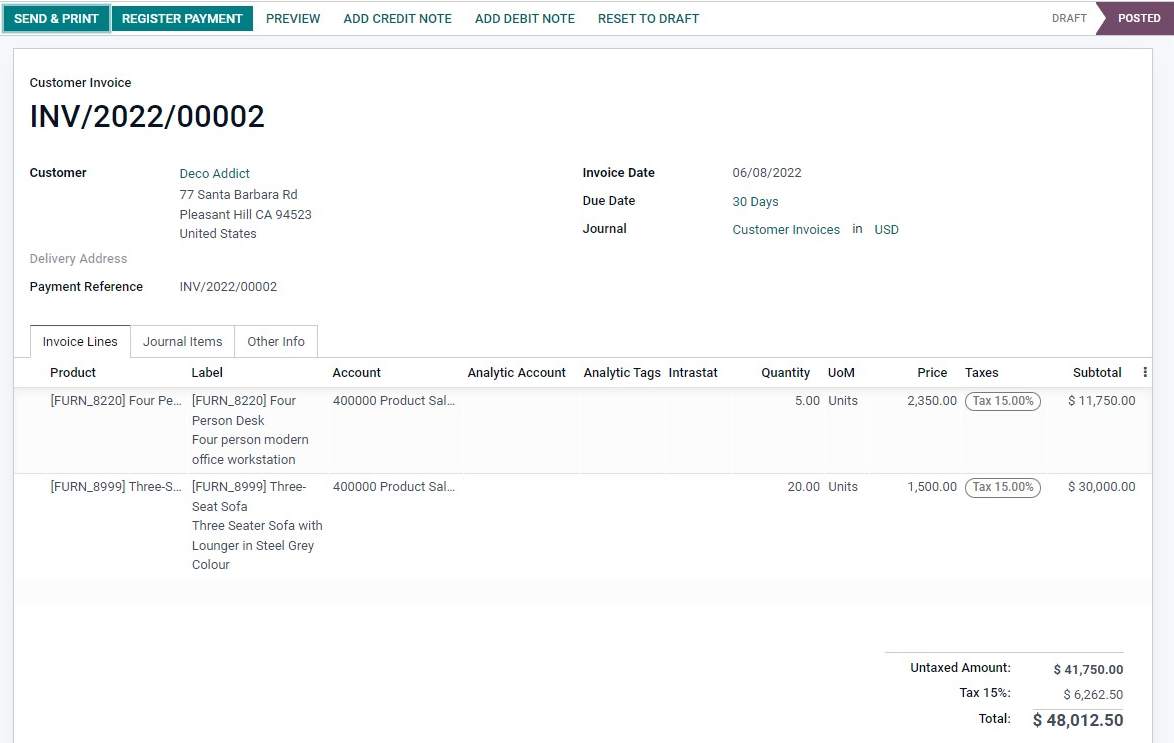 Inter-departmental collaboration is greatly simplified. It allows for a better flow of information, and all interactions are centralized in one place. It's easier to find your way around. Each team member can see all the history related to the document and reply instantly in a few clicks.
4. Reports/Tax
It is effortless to generate a balance sheet, an income statement, or any other report (even a tax report) that lets you directly view the figures. Odoo can quickly get a precise analysis of the data thanks to the filters of the analysis tool. This way, you can have an overview of a given period compared to another.
You may be new to accounting. If so, you may not understand the complexity of manually extracting a depreciation schedule. On a scale of 1 to 10 in terms of difficulty, we are at about 11. But this is not the case if you do it with Odoo: in a few clicks, your report is out!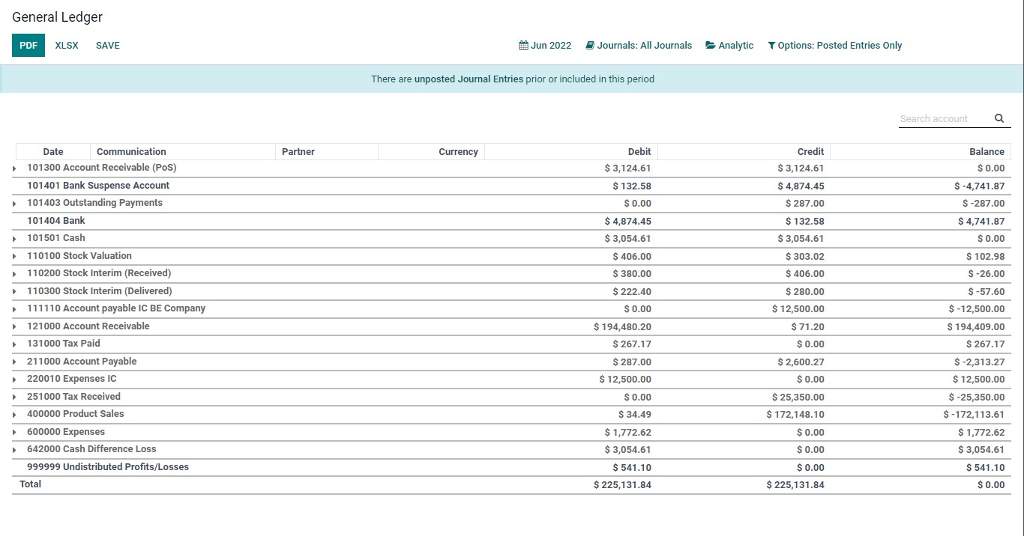 5. Documents application
The Odoo Documents application allows us to manage the few paper documents we still receive. You just have to scan the mail and upload it into the app. For example, it can then be sent to its final destination: the "Accounting" app for suppliers' invoices. Once the document is processed, it remains available in "Documents."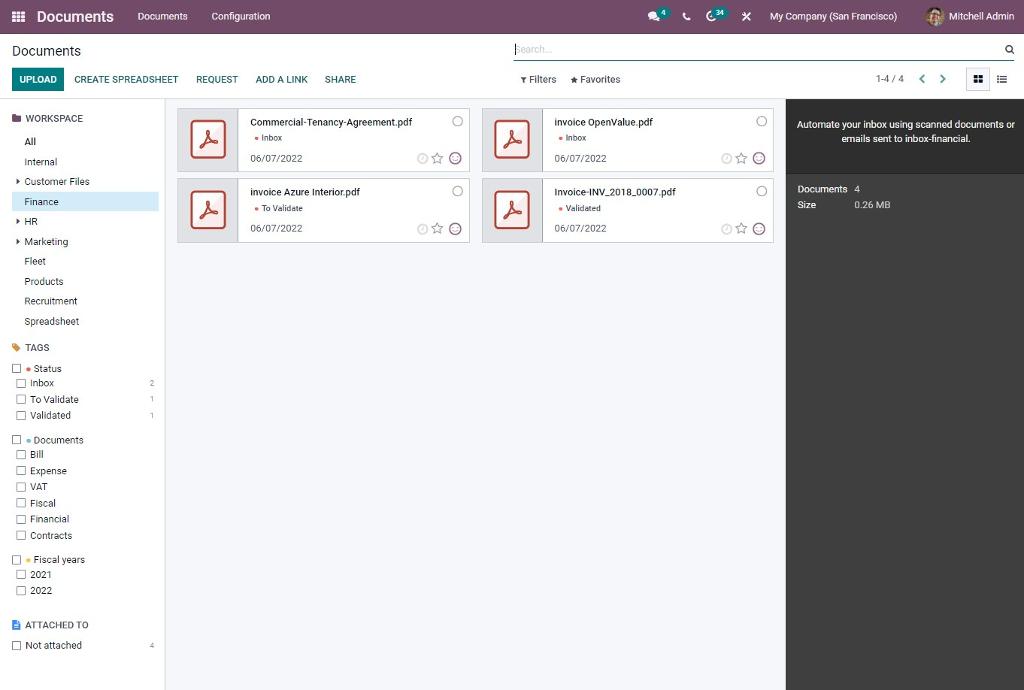 Conclusion
As you can see, automatization can save you a lot of time in your accounting operations. Odoo allows you to have 100% paperless accounting through an intuitive and fully integrated tool.
So, when are you trying it?